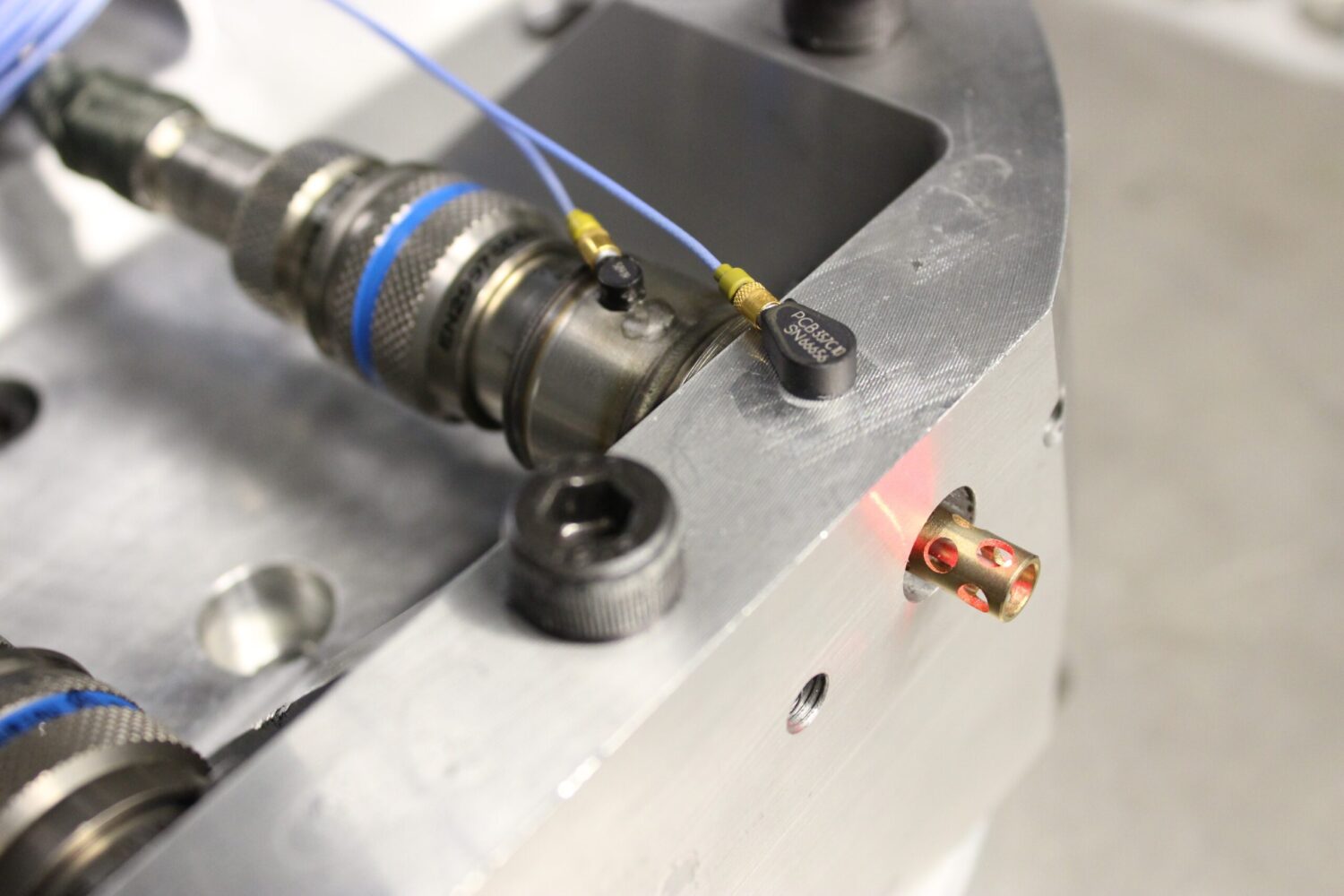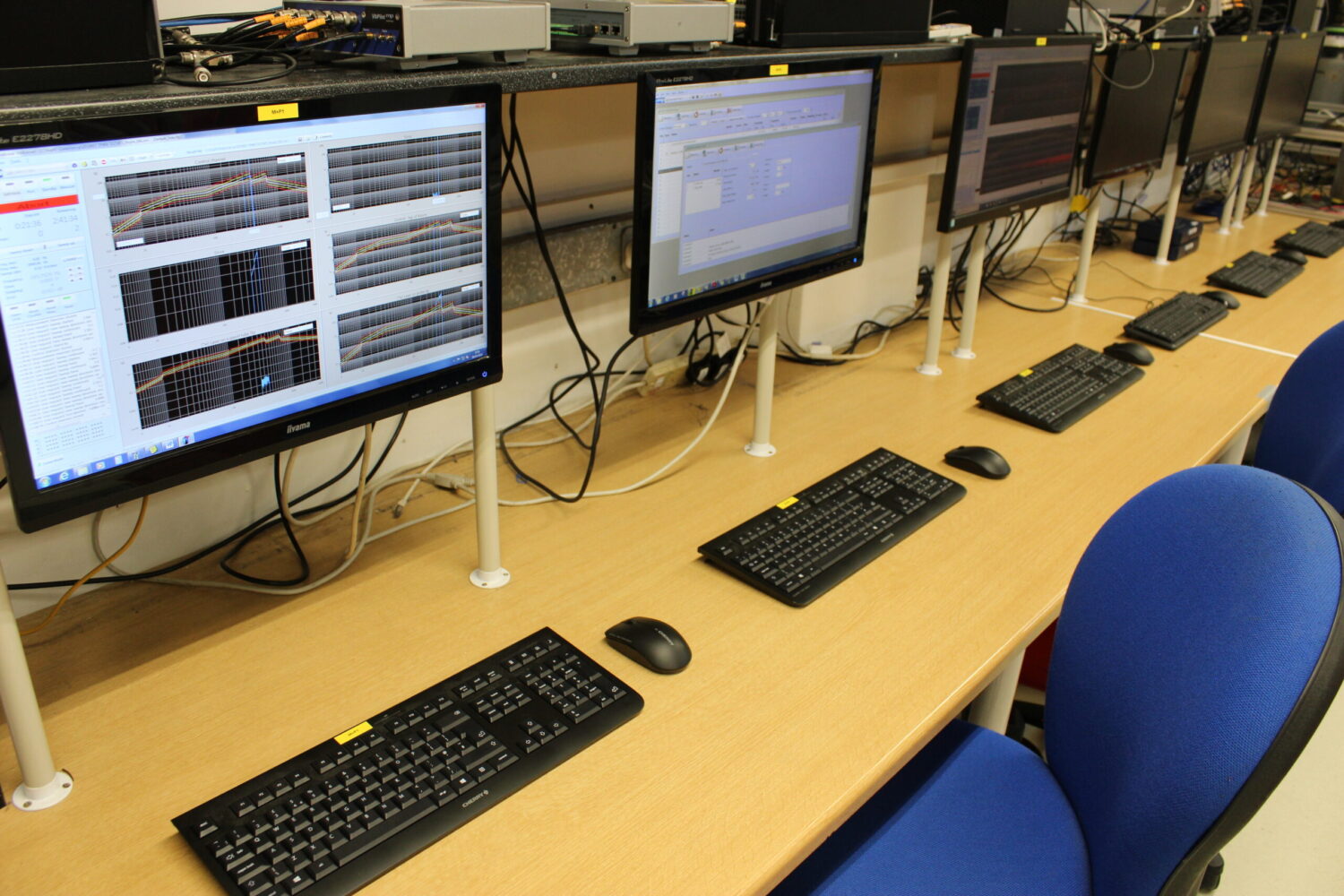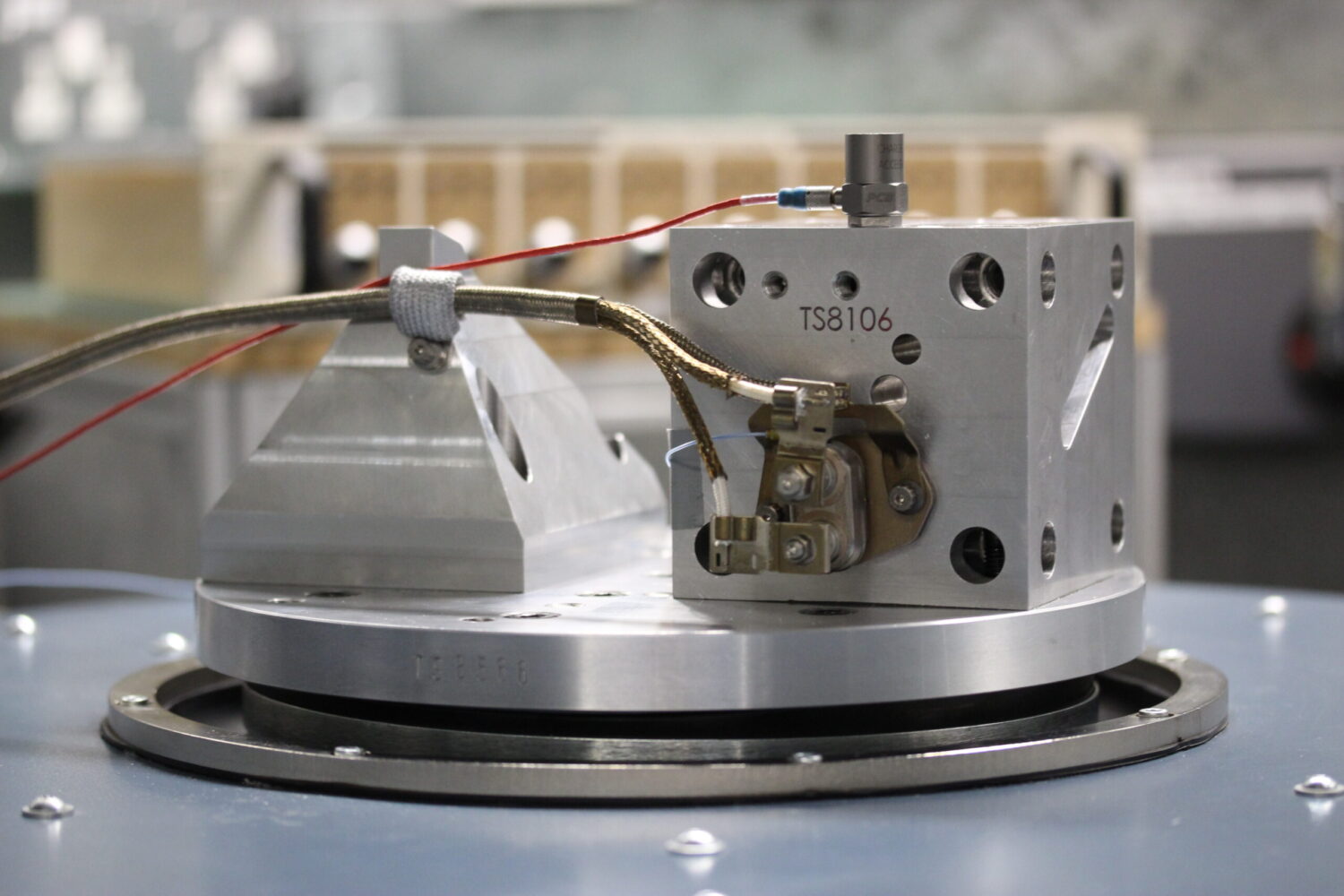 We understand too, it's only by "pushing the envelope", by intensifying our testing rigour, that we stretch ourselves and our products generating the invaluable knowledge that helps us anticipate our Customers' ambitions now and in the future.
Our policy of Design Assurance including Margin and Life Testing, subjects all our prototypes and sensors to unprecedented extremes, in order that we can understand what it takes to break our products, so that you can't!
Vibration Test Laboratory
We have a comprehensive range of Shakers and Vibration Control equipment, offering the widest envelope of vibration test parameters for small to medium sized payloads with each vibration test performed within its own acoustically protected cell, enabling multiple tests to be run simultaneously. Our Engineers and Customers have access to numerous Shakers, working within frequency ranges of between 5Hz and 20kHz with maximum acceleration possibilities up to 180g (Bare table) or 270g with a 10kg mass. Options exist to undertake vibration tests incorporating elevated temperatures. Our advanced vibration control systems are available to support a full range of test modes with multiple channels and differential displays, which are networked to our Design Teams so they can monitor progress in real time
Climatic Laboratory
The sensor challenges, presented by modern engineering environments, are increasingly extreme and are matched only by our Customers' desires to see our products perform optimally and longer in these conditions. So, not content to merely meet our Customer specifications, we have created bespoke facilities to take our products well beyond any reasonable expectations, so that we can be satisfied that they will fulfil our guarantees but as importantly, they deserve to bear the Auxitrol Weston name. Our routine tests include:
· Thermal Cycling: Air Temperature Ranges from -70°C to +400°C. Ramp rates from 20°C to 40°C
· Thermal Shock: Temperature Ranges from -70°C to +1400°C.
· Thermocouple Accuracy / Drift: Temperature Ranges from Ambient to +1600C. Cycle time is under 3 minutes
· Temperature Calibration:– Metal Freeze Point Calibration to ASTM standards for Tin (231.928°C,) Lead (327.462°C), Zinc (419.527°C) and Aluminium (660.323°C)
· Salt Spray Corrosion Testing: Temperature Ranges from Ambient to 55°C +/- 1°C with continuous spray / dry / air purge capability up to 14 days
· Tropical Exposure / Humidity Testing: Humidity Range from 40% -98% RN with Temperature Range Capability from -40°C to +100°C.
Speed Laboratory
Within our exceptional Speed Test Facilities we are resourced to perform the widest range of bespoke wave signal tests and analyses, a fact not lost on some of the world's leading OEMs who routinely use us to qualify their own calculations or to establish unknown performance characteristics, particularly in the development of new products. A significant aspect of this resource is our two custom built test cells, each weighing nearly 6 tons, within which we can simulate the dynamic working conditions of our sensors "on engine", rotating phonic wheels to speeds of up to 50,000 RPM in a safe working environment. And, with our state of the art configuration of diagnostic and monitoring equipment, we are able to accurately capture and analyse data from a variety of routine and bespoke tests which are embraced by the following disciplines
• Characterisation Testing – a fully automated, multi-axis, slide system with bespoke data capabilities
• Extensive Static Testing with magnetic properties and coil interaction consideration
• Dynamic Excitement – including extreme thermal shock test conditions
• Torque Wave Form Processing to interpolate zero crossing statistics
• High Speed Simultaneous Sampling "on the fly" review and off line analytical assessment of multiple speed sensor signals.

Icing Wind Tunnel
In France, we have our Atmospheric Laboratory where we are constantly perfecting methods of de-icing, utilising our Icing Wind Tunnel, a unique cloud simulation facility exclusive to Auxitrol Weston. This enables us to recreate operational conditions ranging from controlled icing, through water droplet spray, to ice crystal bombardment of concentrations ranging from 0.2 to 8g/m3 and up to 1mm in particle size, at various speeds and temperatures. Here, we also developed our revolutionary "All–Ice" alloy, a product with extraordinary mechanical and thermal characteristics, which also exceeds the latest Health & Safety Environmental legislation. Already proving to be of particular advantage for applications where heating has historically been required, it is now challenging conventional thinking on ice accretion.