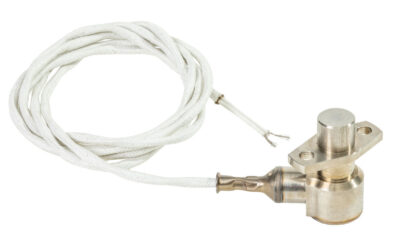 Non-intrusive Speed Sensors
Auxitrol Weston has led the Speed and Torque Sensors market for more than forty years; with more of our products on more of the world's leading gas turbines and gearboxes than any of our competitors. Despite operating environments becoming more extreme and product lifecycle demands being stretched, we consistently achieve extraordinarily high reliability figures. Currently our measured pedigree exceeds the handbook calculations with an in-service Mean Time to Failure (MTTF) record in excess of 40 million hours based on our impressive fleet hours.
Research and testing rigor underpins our authority in all matters relating to sensors. It's what keeps us ahead, being emphatic about the quality of our work, its progressiveness and the contribution it will make towards upholding our Customers' reputations, as well as our own, now and in the future.
Mounted deep inside industrial and aerospace engines, our modular design product family of moulded variable reluctance sensors achieve extraordinary levels of reliability , with savings on DMC (Direct Maintenance Costs). Our lightest weight example comes in at a mere 35 grams. Alternative metal body designs are available and currently in use on various applications. Typically used on industrial gas turbines, where temperatures are extreme; our eddy current or capacitive non-contact sensors provide exacting standards of on-engine monitoring, without the need of a phonic wheel.
A wide range of product types and sizes are available, with variations and bespoke solutions in constant development for many aircraft applications including engine, FMU and APU. Particularly suited to limited spaces and interfaces that can be customised through integrated harnesses capable of high temperature operation, these sensors are supplied worldwide including to the largest OEMs.
Features
Operating temperatures from -60°C to +240°C at the body, integrated lead-out harness ranging to 820°C as it exits the engine
Multi-channel or single channel
Vibration capability >200g
Turbine / rotor speeds up to 60,000rpm
Benefits
Product family – modular design for production flow line
Large air gap settings
Industry leading robustness
Low weight solutions